Man ... this has been a strange week. o_O I'm not sure why, but my schedule simply went out the window along with the hot Texas air as the cool front approached.
Okay. That's just an excuse. I really don't have any justification other than I got lazy! I feel like a total slug.
Anyhow, I dearly want to catch up and show that I have NOT fallen off the blogoshpere. So here I go ... the easy first: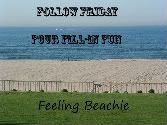 1. I like to

crochet

when I am

feeling the cooler weather coming

!
2.

Spinach

is my favorite vegetable (especially the "baby" spinach because it tastes more like sunflower sprouts!)
3. I get

anxious

when

driving at night

. (I think this is a middle age thing ... wasn't like this before.)
4. I am surprised by

the political mudslinging on Facebook

and

that makes me cranky

. People used to be civil to one another when having opposing views. Now it's all insults and hate speech. *not happy*
OK ... now for the harder one!
1. Weigh-In: 2 more pounds gone. *smiles*
2. Exercise completed: Still staying fairly consistent, even though this week has been a lazy one for me. I started reclaiming a garden at my friend's alpaca/sheep farm so three times this week I was swinging a pick axe and pulling weeds. Last Friday I swam for 70 minutes or so. And Tuesday at my riding lesson, I was "promoted" to training on Review because my first lesson horse, Putt Putt, taught me everything she had to teach me. Review is larger, faster and has more sensitive buttons. I kept her at a trot for about 20 minutes total and worked up quite a sweat! Here's a photo of Review (don't ya love her freckles??):
3. Splurge/Guilty Pleasure: last night's massage. *aaaaaaaaaaaaaaaahhhhhh*
4. Success Story: See #1 and #2 ... *cheats*
5. Recipes/Photos:
Isn't that cute? My daughter, who is a senior in high school this year and is interning at a veterinarian's office a couple hours each school day as part of her Vet Science curriculum (she will graduate with her Veterinarian Technician Certification), made a bunch of cupcakes for the staff. I did NOT eat a single one. She did different critters, all of them made with fondant. Do you know what's in fondant??? If you're here because you're taking part in Lauren's Cardboard Box Diet ... you don't want to know. Never, ever eat fondant!
I did eat this one, however:
A different take on last week's entry ... this time I really made a portabella mushroom pizza complete with sausage, onion and bell pepper along with the cheese and tomato. Seriously satisfying stuff!! And incredibly weight-loss friendly.
I also learned a few things this week about eating, exercising and losing weight. I track my calories on
My Fitness Pal
and last Friday I came in under my calorie target by 837 calories. I did not go to bed hungry. The Pad Thai I ate from Lite Wok kept me fueled throughout my swim and well into the evening. So all I had for supper for one of the drinkable yogurts I get from my local dairy guy. I woke up Saturday feeling like I was hit by a truck. It was awful. I had to cancel my morning activities. It wasn't until about an hour or so after I ate a good breakfast did I start to feel like me again. But I was wiped out for most of the day.
Tuesday, I again went way under my caloric intake. Tuesday evening was horsemanship lesson for daughter and I and we took our coach out to a great burger joint before the lesson. Nice grass fed burgers, awesome sides ... and a wall of beer taps of just about every seriously good beer out there. I helped myself to a double serving of Moose Drool, one of my favorite brown ales.
I have been going "primal" for weeks. The burger I got with no bun ... no problem. I did not eat the fried pickle (it was breaded) and I limited myself to just a few sweet potato fries (which they lightly dust with sugar and cinnamon ... yum yum yummy!). An 856 calorie dinner. Even after getting home when the riding lesson was completed, there was no way I was going to eat anything even though I was way under my target. In the middle of the night, I wake up with a pukey feeling in my tummy. I managed to avoid what I hate more than just about anything else in the world and was able to get back to sleep, but Wednesday morning's activities were canceled.
Now, I love beer ... the really good stuff. It's as much a pleasure for me to have as it is to have a really fine wine. Or really good, rich, dark chocolate. But beer is made from grain, and while I thought: "Maybe since the grain is malted and the whole concoction is fermented, I'll be OK!" ... WRONG! I hear there are gluten-free beers out there, but everyone who knows really good beers say they are just terrible.
So here I am stuck in a very strange place to be. Giving up eating breads and pastas and other heavy grain-based foods has turned me around for the better. I feel great. I have much more energy than I've had in a long, long time. But giving it up tipped me into "gluten sensitivity" (or I had it all along but did not realize all those nagging little bothers were caused by it) so I cannot easily go back without feeling bloated, gassy, tired and just plain awful. I can very easily sail through life without eating breads and pastas as I have found substitutes that I actually like MORE ... but nothing replaces beer. *sad face*
I am going to give it one more try ... next time I will limit myself to just one serving. And it will NOT be before I get in the saddle!
The one thing I will NOT try, or allow, again is going under my calorie target by anything more than 100. Under-eating is no way to lose weight!