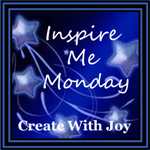 What a cool idea! I discovered this wonderful blog last week whilst hopping around seeking creative sorts in the blogoshpere. I identified with the lovely lady behind this blog because she has the same thought as mine ... and that is, we are created in the image of the Ultimate Artist, therefore, all of us have a creative gene. I truly believe this ... it's just a matter of finding one's means of expressing one's creative side.
So every Monday she invites us to share what inspires us. This will spur me on to carry my camera around a lot more! But for my maiden post on Inspire Me Monday, let me cheat and simply say:
... and specifically, my "inspirations" board on my Pinterest. There you can see some of the things I have found that get my juices going. The things that make me want to find 10 extra hours every day in order to indulge in the crafting of those inspiring things. Some of them will take too many hours to count, but who counts the hours when indulging in making pretty things?
Lace is what is inspiring lately. I'm working on what will be a scarf made from 100% baby alpaca yarn, dyed in the beautiful color of "sea mist" which is probably one of my all-time favorites. A LOT of my wardrobe features this color.
It has 300 stitch patterns and edgings. I'm using the "Zen Lattice" pattern. The yarn is Misti Alpaca Lace ... meaning it's lace weight and therefore very thin. The crochet hook I'm using is size 3.75 mm which is a bit larger than usual when working with lace weight yarn, but I wanted the finished fabric to be airy-light.
I stretched the fabric a bit so you can get a better view of the lattice.
I have these freshwater pearls leftover from several jewelry projects from years gone by that is a perfect match for this yarn ... since I'm going for a tone-on-tone look.
I'm not sure how I'm going to incorporate these pearls. The drill hole is probably way to small to accommodate the thickness of the yarn so I may be sewing each pearl on by hand ... some how, some way.
I am so looking forward to participating in this weekly exchange of ideas and inspirations!